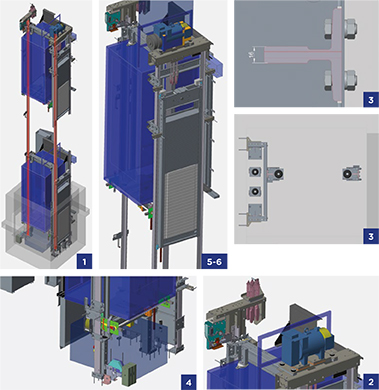 Due to a constantly increasing demand from the UK market by both consultants and lift companies, GLE is proud to announce the launch of an improved lift package. The popular Enviro Progress lift package has been developed and improved to be perfectly adapted to requirements for morerobust lift packages designated for top-of-therange, bespoke installations and is now available with the following optional features:
Conventional 2:1 roping with conventional pulleys car frame
Ziehl Abegg machine with the capacity for 240 starts/hour
16mm car guide rails
OSG not car-mounted
Heavy-duty Pegasus or Robusta car and landing doors with the option for EN81-71 Cat. I and EN81-71 Cat. II compliance
Reinforced brackets.
GLE is, therefore, delighted to be able to offer a lift package solution which will meet even the most state-of-the-art, technically demanding lift specifications, not only for higher-capacity lifts but also for any type of smaller passenger lift.
No products were found matching your selection.